Upcoming events
I'm hard at work on a new arrangement of Nina Rota's La Strada in a new production at the Staatstheater am Gärtnerplatz in Munich, Germany, to be playing in July.
The B Band returns with a performance at the Outpost Series at UC Riverside. There will be Mahler.
A special (secret?) performance at UC Berkeley. More information to be revealed.
News
A Nice Day for the Races. I'll be performing in an operatic setting of the Samuel Beckett radio play by composer Michael Webster at The Box in the Arts District.
The Lord of the Rings live just keeps rolling along with concerts in Prague in December.
I'm excited for the completion of a new work for piano electronics, Sometimes I feel like my time ain't long. This first part will be half of an evening length piece was written for pianist Vicky Ray. More information coming shortly on performances....
There is a complete Trilogy of Lord of the Rings with the Chicago Symphony at the Ravinia Festival. I will be assistant conductor. Pretty huge.
Excited to return to the Mann Center for the completion of the Lord of the Rings Trilogy with the Philadelphia Orchestra, live to video projection.
I'm thrilled to be joining Jacaranda for performances of 2 Steve Reich Masterpieces: Drumming and Music for Mallet Instruments, Voices, and Organ. Should be fun.
I'm excited to announce that I'm joing the roster of Nomus21, who will be representing my orchestral piece, Circus Maximus. You can check out their website - it's an exciting new music experiment.
My Marimba Solo is available from Heartland Marimba Festival Publications... and they just updated their website which is looking great. So head over and check it out.
Three shows of Return of the King in Munich! Bavaria!
I'll be teaming up with Synchromy for a concert of Viola Music including Berio's Naturale at Bird Studio, Occidental College. 8 pm.
I'm excited to join the incredible Hocket Duo at UCLA's Schoenberg Hall for a performance of David Lefkowitz's piece for pianos and percussion, Calder's Closet.
In not-the-most-exciting-news, I've been making some long overdue housecleaning to the old website. This includes linking to more up-to-date recordings, and uploading some longer clips of my older pieces. Yes!
I've placed a recording of my massive marimba solo, Night and Fugue for Marimba (alone) on SoundCloud. That's me performing it. I can't believe I played that many notes either.
The Lord of the Rings Europe 2017 extravaganza continues for two concerts of The Two Towers, live to projection in Florence, Italy with the Opera di Firenze and the Orchestra del Maggio Musicale Fiorentino.
Excited to work with the Orquesta Nacional de España for two concerts of The Two Towers, live to projection in Madrid Spain.
Thrilled to head to Paris (!) with Lord of the Rings, where we will be presenting all three movies (!) in a row, with live symphony orchestra.
The B Band heads to Boston Court in Pasadena to present Mahler, Symphony no. 5
I'll be performing Stravinsky's only opera, Rake's Progress, with the Pacific Opera Project. At Occidental College in Eagle Rock!
The B Band heads to the Carlsbad Music Festival for some adventurous music by the beach (by Ben Phelps). We're offering a sneak peak during the afternoon of Mahler, Symphony no. 5!
The B Band heads into the studio! I'm excited to be recording my new album / piece, Mahler, Symphony no. 5 by Ben Phelps. We're recording in UCLA's brand new and fancy recording studio. I can't wait to share this madness with the world!
I'll be heading to city of brotherly love for a performance of The Two Towers with the Philadelphia Orchestra, live to video projection at the Mann Center. I'm unbelievably excited about this one. Perhaps you've heard of them.
I'm returning to the music of JacobTV for the West Coast premiere of his multimedia opera The News. With the Long Beach Opera, but playing in Santa Monica at the Broad Stage!
As part of the annual Hear Now Festival of Los Angeles new music, my circus march for orchestra, Circus Maximus, will be performed by the UCLA Philharmonia.
Cool gig notice: I'm playing with the Hollywood Chamber Orchestra at the Pantages in Hollywood in a pretty sweet program of all Star Trek music. So, I thought I'd put that here.
Italia! I'll be in Milan for three performances of The Fellowship of the Ring, Live to Video projection, March 2016.
You can have a special one-night-only chance to hear What's Next? and my Concerto for Viola, Percussion, and Casio Keyboard at Lineage Performing Arts Center in Pasadena. John Stulz, now violist with Ensemble Intercontemporain, returns to perform. Also premieres by Nick Norton and Alexander Elliott Miller!
Argus String Quartet will perform The Angels at Chapman University with Adam Bhatia, trumpet. 8 pm.
Cellist Christopher Ahn will reprise his performance of my somewhat brooding cello solo 29 Lines on the UCLA Faculty Composers Concert.
The B Band will have an official "debut" in double-bill with New York based composer collective Invisible Anatomy. The Blue Whale, 9 pm. Music to include piece by Dante DeSilva, Brendon Randall-Myers, and myself.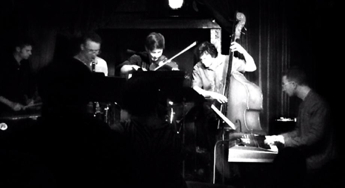 I uploaded some tracks from The Angels to soundcloud! Check out Argus String Quartet's (with Mike Zonshine, trumpet)'s awesome performance! Enjoy!
Back in Europe, this time Portugal, for two performances of The Fellowship of the Ring! Live to video projection, I'm the assistant conductor.
I head to Nuremburg, Germany, for two performances of The Return of the King, live to video projection, as assistant conductor.
Argus Quartet, will give a special repeat performance of The Angels at LA City College. More info to come.
As part of the important LA new music series Tuesday @ Monk Space, My String Quartet no. 1 (with trumpet) The Angels will be premiered in December by the Argus Quartet, the newly announced Visiting Fellows in residence at Yale University. 8 pm.
What's Next? returns to Boston Court for Attraverso, a concert of new music with an Italian influence.
I'll be assisting three performances of The Fellowship of the Ring with the North Carolina Symphony in Raleigh, North Carolina, at the Red Hat Amphitheater.
We've launched a GoFundMe campaign! Help support this exciting upstart festival. I will be composer in residence in June at the Heartland Marimba Festival in Iowa (new marimba music will be written...), but we need your help to make it possible! Check it out and thank you!
I'm pleased to announce that my much too big marimba solo Night and Fugue for Marimba (alone) is now available from Heartland Marimba Festival Publications. Here's Matthew Coley performing the second movement of the piece: